Clearly, this is the best museum I've ever visited because…
1. Instead of looking at the paintings like any other museums, I could go inside the painting.
By the way, this is the painting that I went inside.
I loved the feeling when I was inside the painting. The blue colors, the sunlight upon the wooden floor and the red bedsheet, the opened window, the simple chairs–it all somehow made me feel calm.
Anyway, yes, it's Van Gogh's painting.
2. I can watch an animated replica of dinosaurs walking before me.
It was so real that my mom even got scared.
3. Remember giant worm on Spongebob Squarepa
nts? It's also here. And, it's alive.

Scary, but it's my favorite.
4. I could see a human's heart beating. Yes, beating.
I guess there's no place where we could see a human's heart beating.
5. I could see amazing vehicles.
Harley-Davidson is here, everyone.
6. There's even a Minecraft World!
Welcome to the Minecraft World.
7. No need to be sleepy at this museum because it has a really, really great soundtrack.
Like, when I was with dinosaurs, the music made me feel like I was lost in a wild adventure.
When I was going inside the painting, the music made me feel like I was in a science-fiction movie where I asked myself, "How could I get here? How can I go out?"
Anyway, I took those pictures while I was wearing a virtual reality glasses. That's why the screen is split into two.
Truth to be told, this museum is located right at your fingertips. If you're using an Android device or an iPhone, go to your Play Store or App Store. Find "Sketchfab VR", it's free, there you go.
After installing the application, open it and insert your phone into BeThere Book.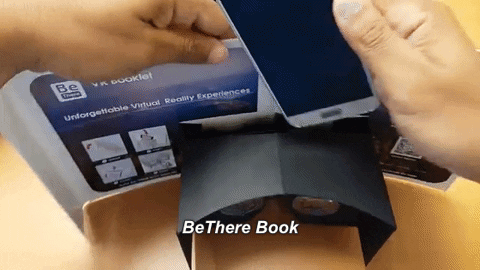 Put it on. Move your head around and you will see all the categories, such as Places, Animal Creatures, Awesome Vehicles, Science and Education, and more. Each category has several 3D models.
If you want to choose "Places", focus the cursor on Places with your eyes, then click the screen.
Once you're inside the virtual room, you can change your point of view by focusing your sight on the Cardboard icon, then click your screen.
Sketchfab is actually a free platform to upload, view, and share 3D model and animations, like this:
Until today, Sketchfab VR has been installed 5,000 – 10,000 times in Android devices. The rating is not disappointing at all. 4.5 both on Play Store and App Store.
Here's how some people react to Sketchfab VR
You can get the affordable virtual reality glasses here.
What people say about Sketchfab VR
Takes a few minutes to download, but it's well worth it. Sort of an overview of customer picks from Sketchfab. Walking with dinosaurs? Check. Visiting Van Gogh's bedroom? Check. Robot monsters, aliens, ancient ruins a more! — HappyM******
This is amazing, seriously amazing. I think we've got a strong contender for the YouTube of VR right here. — James
Very good selection of models from diverse universes (science, cultural heritage, games, museums …). Very immersive, great experience. I spent an hour in the app and it felt like only 10 minutes had passed. — Pierre
What we expect from Sketchfab VR
It's great already that all we want is more categories, more 3D models, new soundtrack.
Last but not least, Sketchfab VR is the application that you will show to all your families and friends because it's just too good.
Get BeThere Book –> here <–.