I didn't want to write this article. I just want to play this VR game.
For the first time ever, we could finally walk in a virtual world using  Google Cardboard—in my case, I used BeThere Book.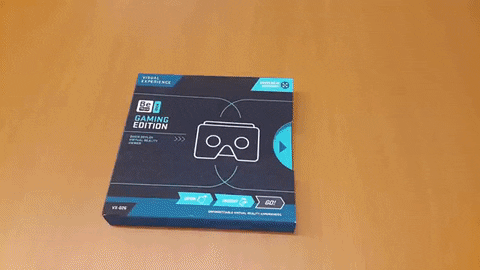 It's a virtual reality game called Wizard Academy VR that enables me to walk. The developer is Realiteer, and it's available on Play Store and App Store for free. You can find the link at the end of this post.
***
The experience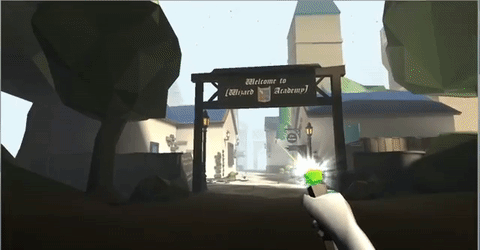 When I started the game, I heard a voice of an old man saying,
"Welcome to Wizard Academy.
Explore each room to gain your wizard skill."
And then, the screen was all white.
After a few seconds, it was blurry but getting normal.
I saw a wooden gate telling me "Welcome to Wizard Academy".
A wand was in my hand, I could control it with my sight.
I moved forward and passed the gate by walking in place—yes, that's how to walk in this game.
Sometimes, I felt that the walking was a little bit too slow, so I tried to quicken my step—and, it unexpectedly worked!
Feeling excited, I wandered around.
This is basically an animated Medieval environment with polygonal graphics. The environment looks like a village with small houses on the left and on the right. It isn't huge at all, which means it's easy to explore. When I looked up to the sky, I watched leaves falling down. I'm lovin' the detail.
Oh, and don't forget the background music that made me feel like I was in an adventure game.
As I was wandering around, I found some rooms that could be explored.
That's where you can play five mini games in Wizard Academy VR.
Fire Archery
Solve a simple math equation. It was quite fun, especially for kids.
Ice Fortress
Destroy ice castles, but you need to know a little physics. One of my favorites. It's like you have to throw a ball from your head to fall down the ice.
Telekinesis
This is cool because you have to bring back all the stuffs based on the color using telekinesis.
Earth Maze
You will be trapped in a maze, and this feels like a real maze. Confusing and challenging at the same time. There's a light that will show you the finish line. However, it's not as easy as you thought. It depends on the level you set, though. (Yes, you can even set the level of the maze.)
***
What people say about Wizard Academy VR
"I've never seen a VR game like this. If you walk in real life, it walks in the game." — TNTMaster
"I was on my way to bed but decided to play a little more with my Google Cardboard. Anyway, doing that turned into the BEST mistake I ever made! I ended up playing for a super long time. In the middle of the night." — Seige
"I have been a super fan of VR for 17 years, to see it finally become a reality is truly an honor. As for your work may I state that this is the best VR experience I have had to date on the iOS. I share "Wizards Academy" with as many friends as I can, and every time they are astounded!" — Robin
***
What we love about Wizard Academy VR
1. The walking experience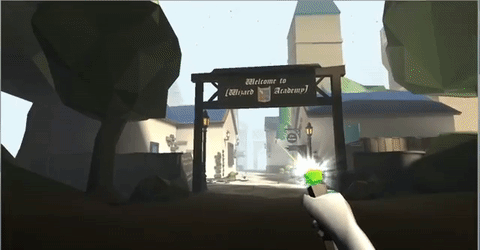 The first walking experience we tried on VR! It might make you exhausted (especially if you're in a maze), but, hey, on the bright side, you're finally exercising. 🙂
It might make you exhausted (especially if you're in a maze), but, hey, on the bright side, you're finally exercising. 🙂
2. It's free
 This is too good for a free application. Both for Android and iOS.
3. The size isn't even big at all.
On Android, it's only 36MB. On iOS, it's 68.3MB.
4. The maze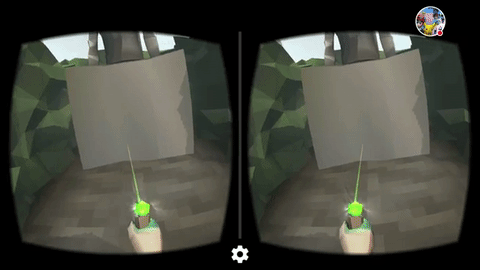 I'm in love with the maze because we can set the difficulty from the 1st level up to 10th level. And, I can feel the difficulty.
5. No ad and smooth.
As I played this game, I didn't find any ad at all. The gameplay was also smooth. I was using my iPhone 5.
***
What we expect more from Wizard Academy VR
1. More rooms to play
Of course. With more challenging games.
2. The font
Is it just me who feels that the font on iOS version isn't easy to read?
3. Please, create a VR horror game like this.
The one that enables us to walk without any controller. And, there's a ghost hiding in one of the rooms. And, we have to solve a mission in limited time. I bet it's gonna be so cool!
***
So, what do you think about Wizard Academy VR? Will you download it? Let us know in the comment below!
Download on Play Store.
Download on App Store.
Get BeThere Book to play Wizard Academy VR.