There was a doll. It looked like a dead body of a little girl. But her eyes were alive. The devil eyes.
And, I was there. Scared to death. You can BeThere, too.
However…, are you serious?
In this article, I will explain all about "this doll".
This article consists of six chapters:
#1 How Can I Experience This?
#2 My Experience of Sisters VR
#3 People React to Sisters VR
#4  What People Say about Sisters VR
#5 What I Think About Sisters VR
#6 What We Expect for Sisters VR
***
Chapter #1
How Can I Experience This?
This is actually a horror application you can enjoy in your devices. It's called Sisters: Mobile VR Horror Story.
Here's what you need to prepare.
1. Your Android or Your iPhone
Go to your Play Store or App Store and find "Sisters VR".
You're welcome.
P.S. I used my old iPhone 5, and it works smoothly.
2. BeThere Book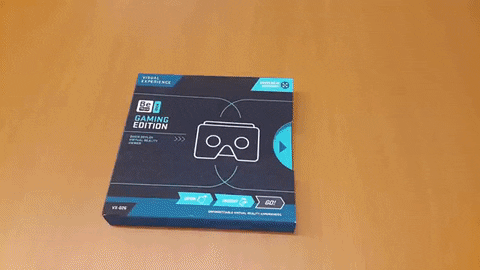 To make you feel like you were there, you need to insert your phone into BeThere Book: Gaming Edition.
The pre-order of BeThere Book is open. $26 for all editions.
3. Use your headphone or earbuds.
Because it will make you totally lost in the story.
4. Lock yourself in a room, turn off the light, and sit down.
If you're brave enough.
***
Chapter #2
My Experience of Sisters VR
It was raining and thundering. I was sitting on a couch, all alone in a TV room. Ticking sound of the clock made me feel more alone…
… and, a little bit scared.
Well, I was already scared in the first few seconds when the lights were off.
Moreover, there was a doll. But it didn't look like a doll. It looked like a dead body of a little girl with devil eyes.
She was sitting on a fireplace.
And, she was looking at me.
So, I turned my head.
As I was looking around the room, the lightning suddenly flashed and the thunder was so loud. My heart was racing.
As if it wasn't enough, I heard the door creaking.
But nobody was there.
But it was open.
And, the terror hadn't stop since then.
The flashes of lightning over and over again.
The voice of a little girl whispering and singing.
The thunder.
The bats flying in the room.
A white-dress woman behind me.
And, the doll wasn't there anymore.
I was trying to find it because I was so scared it'd surprise me.
But then it was sitting beside me, looking at me, and…
Not gonna tell you anymore because you deserve to try Sisters VR.
But. I. Am. So. Scared.
***
Chapter #3
People React to Sister VR
***
Chapter #4
What People Say About Sisters VR
"Scary. I had to stop before I reached the end." — Corey

"Not only did I jump, scream, and alarm my housemates within 5 minutes of starting it, I also had to throw the cardboard off for a minute because my heart was racing from all the NOPE and I was playing WITHOUT ANY SOUND." — Natalie

"I thought I was immune to scary, horror, anything. For the first time in years, and we are going back to the original Exorcist, I got more than one fright. It was exhilarating." — Julie
***
Chapter #5
What I Think About Sisters VR
The most important thing in any application is that it has to give you the feels. Sisters VR is really doing great in delivering the feel, the suspense, and all—I gave it 11/10.
To tell you the truth, horror isn't really my thing because, to me, it was boring, as I barely get scared. But I was failed this time. When I experienced Sisters VR, I was like, "Oh my. Stop. I can't."
And then, I had to take off my BeThere Book for a while until I was ready again.
And, oh. The sound. It was crazy. That's probably the big reason I got so scared.
For the graphics itself, I didn't find any problem, as the room was set dark—so, that just makes sense.
KUDOS to the developers!
Sisters VR will be listed as one of the recommended VR apps for Gaming.
***
Chapter #6
What I Expect from Sisters VR
It's already doing great, really.
I have one hope, though. I hope the developer will create more VR apps with more interaction, such as walking without any controller. The idea from Sketchfab VR—that allows us to watch something from the different point of view—and Wizard Academy VR—that allows us to walk without any controller—could be a great idea to improve your next project.
Please, don't stop creating apps for Mobile VR.
Sisters VR is developed by Otherworld Interactive.
***
Chapter #7
What Do You Think?
So, what do you think about Sisters VR?
Please share your experience in the comment below!
See you on the next BeThere EveryDay!
Download Sisters: Mobile VR Ghost Story on Play Store or App Store.
Pre-order BeThere Book: Gaming Edition or any edition you like.