Chapter #1
How to Exercise in Virtual Reality
So, you've been spending all day working in front of your laptop.
You've been spending all night laying on your bed with a smartphone.
Exercise? Nah. Can't even think about it.
But I guess there should be no more excuse as you found this cool news.
This guy didn't go to the gym and didn't do any strict diet.
As he posted on Reddit, all he did was playing games in virtual reality.
Yes, playing games.
This is what he said on Sept 26th, 2016,
"50 days ago I decided to challenge myself to lose weight and increase fitness using nothing more than VR conducted at a high intensity pace, some walking, and good nutrition."
His starting weight was 180.4 lbs (equal to 81.83 kg). In the 48th day, his weight was 166.0 lbs (equal to 75.3 kg).
Which is not bad at all. Considering that he used only VR. No strict diet.
The game he played was Audioshield, Sword Master VR, Bitslap, Fruit Ninja VR using a $799 virtual reality headset, HTC Vive.
Chapter #2
The Affordable Way to Exercise in Virtual Reality
But, well, I just found an alternative if you don't feel like spending $799 in the near future. You can still BeThere in a virtual world, playing games, exercising and burning calories like what he did.
The game will be different, though. But this won't matter if you just want to exercise in virtual reality.
So, grab your smartphone and turn it into a virtual reality device by downloading a free app called "Wizard Academy VR". This app will make you walk and sweat lot.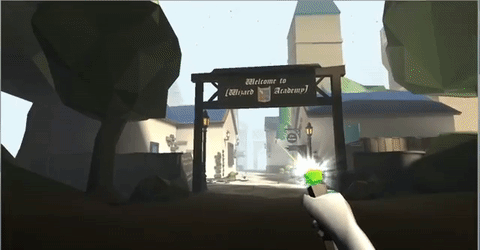 (I personally have tried it, it was really, really fun. Read my review here.)
Just like any virtual reality application, it requires a virtual reality viewer, but you can use the affordable cardboard viewer, such as….
Once you open Wizard Academy VR and wear BeThere Book, you will live the game.
If you want to move forward, just walk in place in real life. If you want to move faster, run in place in real life.
That's already an exercise.
Chapter #3
Want to burn more calories? Go to the maze.
The maze is located at the end of the Wizard Academy, which is not far at all.
Beside the maze, you will find something that looks like a clock—but it's not a clock, it shows the level of the maze. From one to ten. You can set the level by focusing your sight on the number you want.
The maze is getting more complicated as you set the level higher, which means more walking, more running, more calories burnt.
Once you're in the maze, you can look up to find the yellow light. Follow the light. You can also jump to see the whole maze by jumping in real life.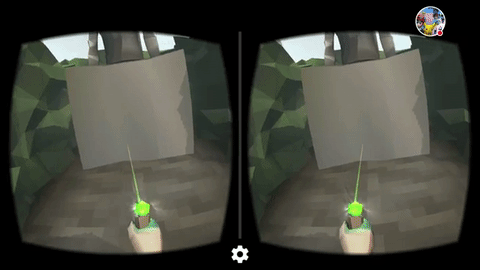 P.S. I tried the fourth level, and I was like, "Why did I go back here again? Why are all the supposed-to-be-the-roads blocked?" And, without I realized, I walked and sweated a lot. But that was fun because it was like an unplanned exercise, and I didn't feel like exercising at all.
I mean, we all have said to ourselves,
"I'm going to run tomorrow."
"I'll go to the gym tomorrow."
But then we all are too lazy because the weather isn't good, got no time, and any other excuse—but, basically, we all are just too lazy.
Virtual reality breaks that rule.
***
Get BeThere Book for more experiences in virtual reality.