I guess I will have a good sleep tonight.
To tell you the truth, I actually have a sleep problem, which I feel so sleepy when the daylight and so awake at midnight. But tonight was different—I felt so sleepy. And, it's because some of the relaxing virtual reality videos I have listed below.
So, if you're having some sleep problems or get stressed of your works and things in life, these VR relaxation videos might help you get through it.
***
Top 10 VR Relaxation Videos
#1
LUMEN on Life VR
Created by a team of VR Neuroscience Advisor Walter Greenleaf, PhD Stanford University Virtual Human Interaction Lab, and Framestore's VR Studio, LUMEN helps you to relax your mind. The experience starts with a short breathing exercise, guided by a narrator and a moving object as a sign to breath in and breath out.
After the short breathing exercise, LUMEN will bring you into a luminous forest. As you gaze around, you know you can interact with the forest based on the narrator's explanation.
The first thing you can do is to stimulate tree growth and see every detail of it, and, somehow, it looks like an imagination that's coming before you're falling asleep.
The second thing you will do is… well, you better experience it yourself.
(This one literally made me feel sleepy.)
Download Life VR on Play Store.
Download Life VR on App Store.
***
Top 10 VR Relaxation Videos
#2
The Evolution of Verse on WITHIN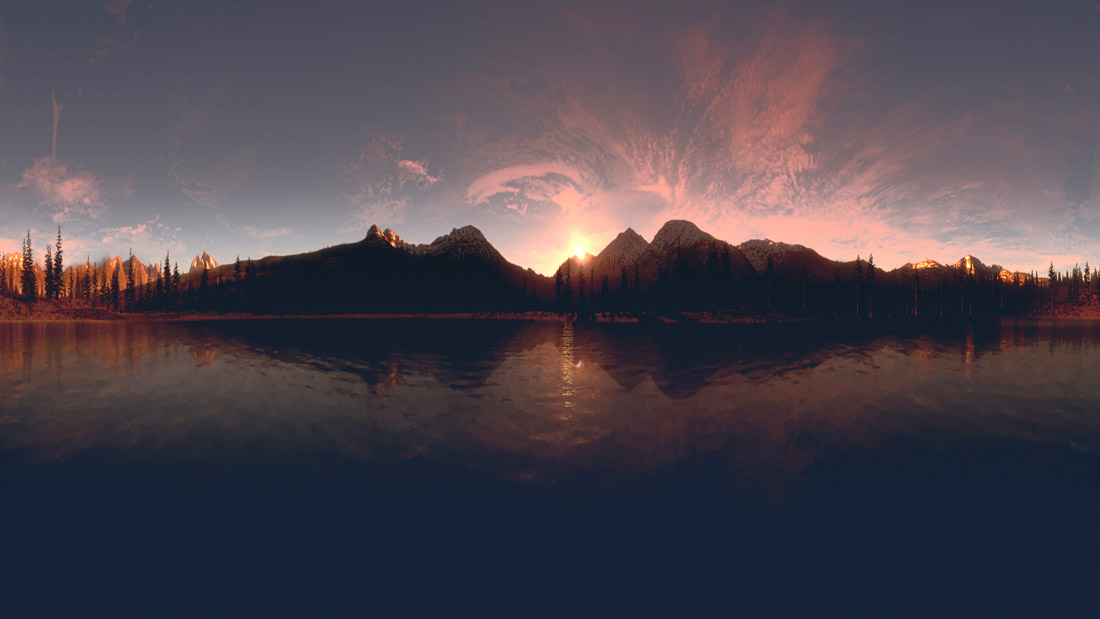 This VR experience totally feels like a lucid dream. A sweet lucid dream.
First off, you will be standing by the lake, watching the sunrise, the dragonfly flying, the moving clouds, and the beautiful trees, grass, and snow mountain.
It's so beautiful that you might not realize something's coming toward you.
It's getting closer and closer and closer.
And, when it hits you, you can't help but smiling.
When you take off BeThere Book from your eyes, you will feel like waking up from a dream.
***
Top 10 VR Relaxation Videos
#3
Sunset and Aurora in Alaska
Kudos to William Briscoe the Videographer. Back in August, he shot this sunset-aurora timelapse up at Hatcher's Pass. The result? Not disappointing at all. Wonderstruck, instead.
The 360-degree video shows a peaceful sunset in the first few seconds. The sky was clear, the clouds were moving in a relaxing way. When the dark covered the sky, the green light was captured on the camera. It started as a very small and thin green light, but then it all came out, twirling, dancing , and covering the night sky.
And, you don't want to do anything but looking at the sky.
I did.
***
Top 10 VR Relaxation Videos
#4
Milky Way in Alaska
If J.K. Rowling is one of the best writers in the world, then William Briscoe could be one of the best videographers in the world. Especially, when he's capturing the night sky.
This 360-degree will make you laying on the floor and watch the sky full of stars—like the sky was running out of clear space.
Mesmerizing.
***
Top 10 VR Relaxation Videos
#5
Relax with Me
This is a simple 360-degree video, however, it's quite powerful for relaxation. You will sit next to the ocean and hear the sound of the wind and the ocean waves.
This 360-degree video is uploaded by ASMR Destiny. ASMR stands for Autonomous Sensory Meridian Response. And, one of their missions is to assist people that have issues with relaxation, sleep, headaches, and concentration via their contents. This video could be one of them because I do feel relaxed while experiencing it.
P.S. I loved it when the waves are coming closer to my feet. Wish I could touch it, though.
***
Top 10 VR Relaxation Videos
#6
Gili Air Sunset
I knew it would be relaxing since the very first few seconds. The blue colors of the whole environment, the relaxing sound the water lapping on the shore, and there's nobody but you.
The best part? There are no cars or motorbikes to disturb the peaceful atmosphere.
This 360-degree video is uploaded by Interdip360, and, as this post is published, there are only 2,031 views. Like, for real? It deserves more.
***
Top 10 VR Relaxation Videos
#7
Lanterns for Google Cardboard
This is a simple relaxation virtual reality application. Basically, you're just sitting by the water, hearing the sound of the water, and watching the floating lanterns.
Let's take a look at one of the comments:
Beautiful and Relaxing! I play ambient sounds and music while viewing this app on my Cardboard headset. The graphics are really clean and I love how you can change the time of day. I use this app when I'm having insomnia problems or am stressed out. There's no drift and the head tracking works great. Many thanks to the awesome and creative developers for this!
Download Lantern for Cardboard on Play Store.
***
Top 10 VR Relaxation Videos
#8
ICELAND – A Miracle of Nature

There are many beautiful countries in the world, but Iceland is one of those countries with its meditative scenery.
This 360-degree video proves it, and it's everything.
***
Top 10 VR Relaxation Videos
#9
Sunset Meditation on NYT VR
Let's end this list with a quiet scenery.
Just you and the sunset.
Download NYT VR on Play Store.
***
Top 10 VR Relaxation Videos
#10
You decide.
Now, it's your time to share your good-to-go VR apps for meditation and relaxation. Please kindly write down in the comment below.
***
Tips to Enjoy VR Relaxation Videos
1. Choose the quiet room.
Make sure nobody will interrupt you.
2. Put your headphones or earbuds on.
To make the experience more immersive.
3. Wear BeThere Book
Insert your phone inside BeThere Book, wear it, and relax.
Also, with BeThere Book, you will always get the latest recommended VR contents through the QR codes inside. Like this kind of recommendation. If you have some request experience in VR, we would love to provide that for you! Contact us on Facebook, Twitter, or Instagram.
***
See you in the next post!