2016 is coming to an end, but let's rewind all the best VR trends happening this year. From the first generation of VR headsets in the 21st century to the VR experience from the first man in the U.S.
Let's check out these VR trends 2016.
1. 

The first generation of VR headsets in the 21st century finally hit the market.
In addition, these VR headsets generally received positive reviews by technology news and media networks, such as Tech Radar, Wired, and Wareable.
See also: Which VR Headset Should I SERIOUSLY Buy?
And, over 1,000 compatible applications had been published.
Watch how people experienced Google Cardboard:
See also: 16 Best VR Apps in 2016 That You Still Want to Play in 2017.
With over 250 apps available.
Watch how people experienced Samsung Gear VR:
4. The world's first VR social network is also coming in 2016.
Meet vTime. It allows you to meet your friends in a virtual world, anywhere, anytime. And, it's available on Oculus, Samsung Gear VR, Google Play, App Store and Daydream.
Watch how this YouTuber experienced vTime:
In my personal opinion, vTime is the VR killer apps, as this is what we all need—meet our families and friends from wherever we are, no more driving, no more traffic. Just put your VR headset on, and hello, friends.
With the year only halfway done, the investment in 2016 already sees 85% growth over 2015′s funding total.
Some of the investments in 2016 are Mindmaze ($100M), Blippar ($54M), WEVR ($25M).
6. Alibaba gone VR.
The online shopping experience will forever change after this. Watch the video below:
Shopping VR experience will also be the VR killer apps/system in the near future. Remember when you buy a t-shirt online, but it doesn't look like in the picture? That probably won't happen anymore with virtual reality, as you feel like coming to the store—well, you do come to the store, virtual store.
7. Top brands gone VR.
From Time Inc to Fox Sports—they now have their VR apps available on Play Store and App Store.
Read more: Top 12 Brands Gone VR It Will WOW You.
8. Your favorite games also gone VR.
Like, Resident Evil.
Or Fruit Ninja.
9. Your favorite movies, too.
Like, The Conjuring 2.
Or, Rogue One: A Star Wars Story.
Or, The Jungle Book.
10. A camera that lets you take 360-degree selfies
In 2016, a new way of selfie was found by Allie Go. Give it years, and the trend of 360 selfies will be everywhere as it is today.
Remember those pictures on Instagram which shows a back of a woman, with her hand outstretched behind her, leading a guy's hand? With Allie Go, you can see the guy's face as well.
11. The first man in the U.S. tried VR twice.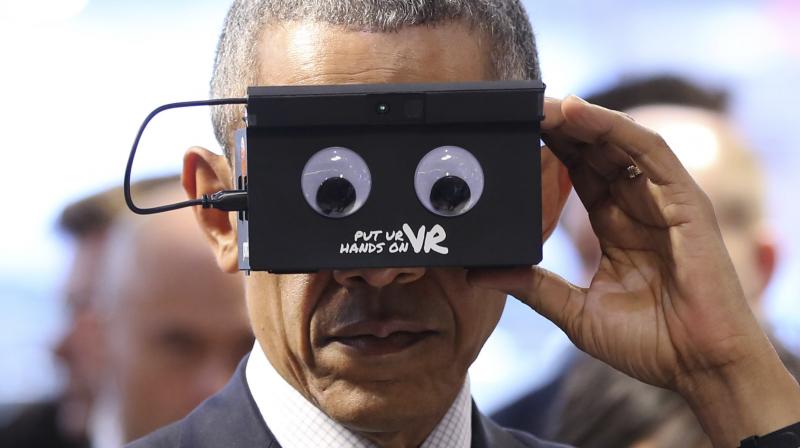 The first one was at the Hannover Messe trade fair.
The second one at his office with Gear VR.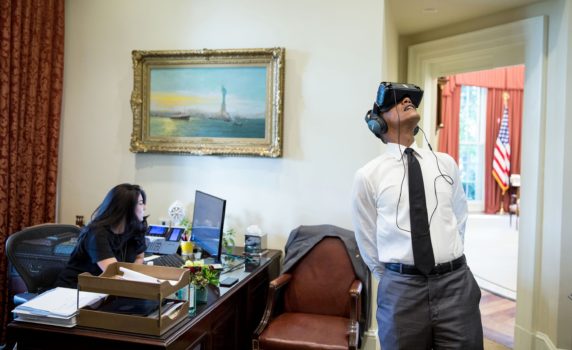 12. Google Earth gone VR—Google Earth VR, and it's breathtaking.
Imagine being able to fly around the world from your home. Say hi to Google Earth VR. In a traditional Google Earth, you will see the maps and pictures in front of the monitor—but now there's no separation. You're inside. This could be the all-time favorite VR app.
Plus, the trailer is just breathtaking.
Watch how this YouTuber experienced Google Earth VR:
13. You can start painting in a virtual world—and your painting automatically turns into a 3D art.
Thanks to Tilt Brush by Google.
Watch how people experienced Tilt Brush:
14. The first VR YouTuber who reaches 100,000 subscribers
Nathie shows you the magic of VR by recording his experience and uploading it on his channel. He mostly uses HTC Vive, Oculus Rift (and Touch), and PSVR on his channel. He also did some giveaway, like this HTC Vive Giveway—which was sadly already closed.
15. The "virtual reality book", BeThere Book, released in Saudi Arabia.
After spending eight months of researching, developing, and testing our VR product called BeThere Book, is now available in some big stores in Saudi Arabia, such as Jarir Bookstore, iZone, Virgin MegaStore.
BeThere Book is when a book meets virtual reality. It's a ready-to-use virtual reality viewer with available contents provided inside.
Available for worldwide shipping at https://be-there.in/vr-cardboards.
16. There must be more than 16 VR trends in 2016, so share yours!
In your personal opinion, what is your favorite VR trends in 2016?