This is something you would consider for your business.
VR Brochure Is Coming to Town
For the past few months, we, Visual Experience, the first virtual reality company in Gulf Cooperation Council region, had been developing a virtual reality brochure.
Imagine when you're at an event and having a booth, promoting your products and services, explaining things to your potential clients, and letting them try it out. However…,
How long can your potential clients remember it all?

How can they share your products and services to their friends, co-workers, and families like what they did at your booth?
How can you keep them engaged?
How can they remember you out of other similar products and services?
Giving out a brochure might be a good idea to make them remember you, however, why don't you impress them with a little touch of virtual reality and make it all unforgettable?
Therefore, that's what we did: A virtual reality brochure called BeThere Book, which is now a patent-pending product.
The Creative Brochure in 2017 Be Like…
This virtual reality brochure simply works like a brochure: open and fold. So, when you give it out to your potential clients, they don't need to ask, "How do I assemble it?"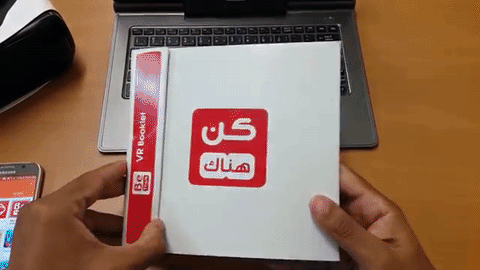 Nor did they need to ask, "How can I see your products and services in VR?" Because there is a space where you can put a small QR code to access the VR content or a 360-degree video of your products and services. As it has wide space, you can put more information related to your business, such as contacts, testimonials, another QR code to your landing page. Functionally, this "wide" space prevents the light from infiltrating, which usually disturbs our experience in VR.
Just like any kind of brochure, this VR brochure has the ability to add pages, enable you to put more information about other related products and services.
VR Brochure After Rebranded
This is how BeThere Book looks after rebranded for a casual VR viewer in five editions:
We are now focusing on opening up collaboration for any kind of business that needs VR brochure and/or its content.
What kind of business shall use a VR brochure?
It could be any business, from a non-VR company to VR company. For a non-VR company, you can imagine a travel agent or any educational organization doing this approach. Meanwhile, for a VR company, you can see this VR brochure as a company profile in VR, where you can put your highlighted works into QR codes, with some explanation about your services.
Remember the first time a web page came? It's not only for tech business, it's for any kind of business — and we see it today.
In VR case, we might see it sooner than we thought.
So, will you be one of those who brings VR to your business — before it's too late?