Welcome to the century of virtual and augmented reality.
2016 was the beginning of everything for virtual reality, but 2017 is getting insane—for good.
So, these AR and VR innovation below will make the rest of this year no longer the same. And, it's not only for gaming, but also for traveling, business, food, and more stuff. Let's take a look.
1. Virtual reality weather add-ons
With this new VR innovation, not only can you virtually walk through a desert, but you also virtually feel the sun is harshly beating down on you. Not only can you virtually ski down a mountain, but you can also feel the wind blowing on your face.
A research fellow at the National University of Singapore, Nimesha Ranasinghe, is developing a new accessory called Ambiotherm, virtual reality weather add-ons that work with a normal VR headset.
To simulate the weather, Ambiotherm has two components connected to a VR headset. The first component is two fans clipped on the bottom of the headset. This is where the wind comes from. Meanwhile, the second component is a temperature module, attached on the back of your neck. This is where you can feel the weather heating up or cooling down.
Ambiotherm will be presented at the Conference on Human Factors in Computing Systems in Colorado in May 2017.
2. Tasting virtual food
There are many people who cannot eat food satisfactorily because of weak jaws, allergies, diet, health problems.
Three years ago, Nimesha Ranasinghe (yes, the same researcher who develops virtual reality weather add-ons) was experimenting something called Digital Lollipop, however, it didn't really work successfully. So, last year, Nimesha Ranasinghe and his colleagues, Ellen Yu-Luen Do started experimenting again using thermal stimulation to provoke the taste of food. As a user places the tip of their tongue on a square of thermoelectric elements, he/she could taste the sensation of sweetness or spiciness through the changes in temperature. In an initial trial, when the device was warmer (around 35°C), some users could feel a sensation of spiciness. Meanwhile, when the device was cooling down (around 18 °C), some could feel a minty sensation.
However, in an initial trial, it only worked for about half of participants.
This project was presented at the 2016 ACM User Interface Software and Technology Symposium in Tokyo.
3. Chewing virtual food (Electric Food Texture System)
The thing about tasting food is not only about the taste, but also the texture. So, thanks to a team from the University of Tokyo, Arinobu Niijima and Takefumi Ogawa, as they introduced a device that uses electricity to simulate the experience of chewing foods of different textures. The good news is that you won't put this device on your tongue. Instead, you will put it on the masseter muscle—a muscle in the jaw used for chewing—to give sensations of chewiness as you bite down.
Even though this project is still in the experimental stage, the team wishes to help people to satisfy their appetite and enjoy their daily life in the future.
4. PSVR Aim Controller
According to the official Twitter of PlayStation, PSVR Aim Controller will launch on May 16, 2017, alongside the sci-fi PSVR FPS, Farpoint.
Better than ever, PSVR Aim Controller will give you more accuracy and with far less of a delay before your motions were reflected in the virtual world. The Aim Controller almost felt like it could read your mind, wrote one of the CNET's contributors.
5. Vive Tracker
With Vive Tracker, you can turn any real-life object into a virtual object. For example, you want to play a baseball game in a virtual world, but you want to use the real bat, instead of that lightweight controller, you can simply attach the tracker to the butt-end. Ta-da, it becomes a virtual bat now, it's tracked in a virtual world, and you can hit the virtual ball with it.
The possibility is now limitless like you can even attach the tracker to your fake gun, your racket, and everything. This will completely change the way we experience gaming in VR.
Vive Tracker will be available for purchase in two phases: Developer release and full consumer release. The developer release will be available on March 27. Meanwhile, a full consumer release is expected later this year. The tracker will cost $100 upon its release.
6. Vive Tracker + Google Daydream
What actually happened if you attach Vive Tracker on the front of Daydream View?
That's what Master of Shape was experimenting lately: Roomscale VR with Daydream. So, they printed a 3D mount to stuck the tracker on the headset. The result? As mentioned on their blog, the experience is not as strong as the traditional Vive setup, but the team said that the Daydream View with added room scale is pretty awesome. However, the big downside, for now, is that there aren't any room scale games for Daydream— not to mention Cover Me, a demo the team developed for this experiment.
7. Harry Potter Spells Augmented Reality
Don't lie. Once in your life, you had probably spelled, "Wingardium laviosa," pretending the object you're pointing at was moving according to your hand's movement.
It's about to get real, anyway. Thanks to Programmer Asad J. Malik, an augmented reality designer.
On his official fan page on Facebook, he posted about this project. It's a demo on Microsoft HoloLens. To make your spell works, you can simply spell it. Spells can be cast by a user's voice and the swish of a physical wand as the movement of your hand gestures.
Currently, there are three spells that work on this demo: Wingardium Leviosa to levitate objects; Incendio to set things on fire, and Expecto Patronum to ward off Dementors.
8. Full Body Controller for Mobile VR (VicoVR)
When you have a tight budget that you can only afford a mobile-based virtual reality viewer (like BeThere Book, a cardboard VR viewer, a premium mobile VR headset), you can actually experience full body controller. With VicoVR controller, you can use your hands as wings to virtually fly like a bird; you can use your hands to do boxing, play ping pong and archery like in real life.
VicoVR will track 19 of body joints, connected to your smartphone, and, voila, you can explore the virtual world with your whole body. No specific release date yet, though.
9. Virtual Reality + Advertising = VR Brochure
Going digital won't be enough. And, this is what happened when virtual reality meets advertising: A virtual reality brochure.
This VR innovation was developed by Visual Experience team, the first virtual reality company in the Gulf Cooperation Council. A virtual reality brochure is basically a foldable brochure, where you can put information about your products information, but, at the same time, you can emotionally connect your client with your products or services through the virtual reality viewer. Unlike any other VR viewer, this viewer is attached along with the foldable brochure. It doesn't need any assembly, and it works with any kind of smartphone, which is a perfect fit for your clients who's 99% possibly using a smartphone.
Another thing is that this VR brochure is open for any kind of customization. Take a look at the design of this VR brochure after rebranded.
Not only does the company provide the virtual reality brochure, but they also offer a service to create the virtual reality content, such as VR apps, 360 panoramic or 360 video as your advertising material. Contact them here.
Anyway, this virtual reality brochure is called BeThere Book, and it is now patent-pending.
10. Mixed Reality Headset from Microsoft and Acer
Just yesterday at the Game Developers Conference (GDC) in San Francisco, Microsoft introduced their first headset from Acer that pair with a Windows Mixed Reality-ready PC.
The headset will begin to ship this month as developer edition.
11. Face Replacement in VR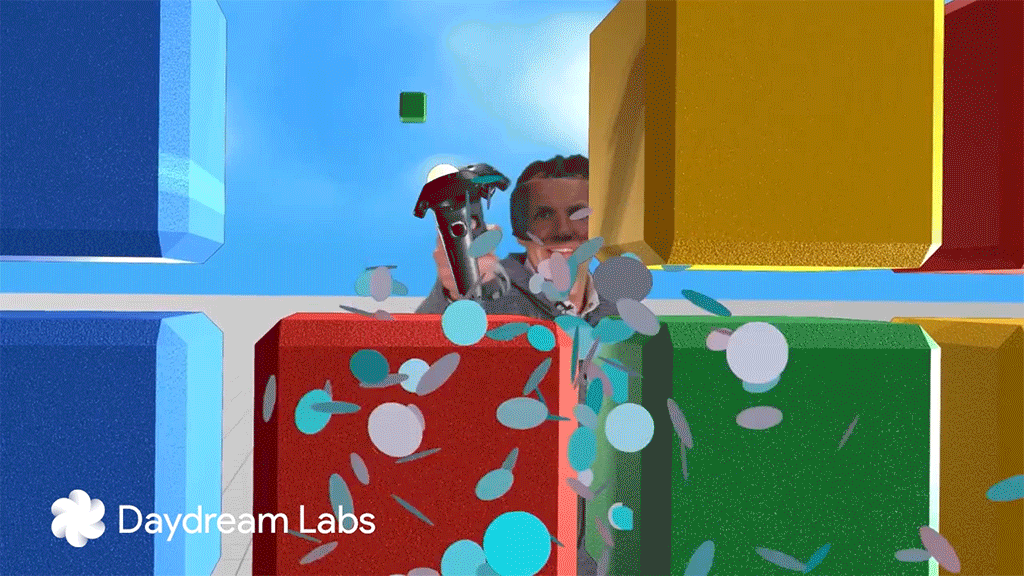 All this time, we have been watching people experiencing VR, and that's pretty boring that we can't see their eyes. Kudos to Google team, it's pretty much solved now. Using a combination of 3D computer vision, machine learning, and advanced rendering techniques, Google team are able to remove the headset virtually. So, even though a user is wearing a headset (and experiencing VR), you can see their eyes like the GIF above.
11. Apple AR project?
There has been a lot of talk about this. A source from Business Insider said 1,000 engineers working on a project related to AR, yet there is no official report from Apple.
***
So, from all these AR and VR innovation, which one does make you excited?
Anyway, it's just the beginning of 2017. We will definitely see more AR and VR innovation in the near future. What kind of VR innovation are you waiting for? Let us know in the comment below.